UTSA Celebrates Women's History Month with Events Throughout March | UTSA today | UTSA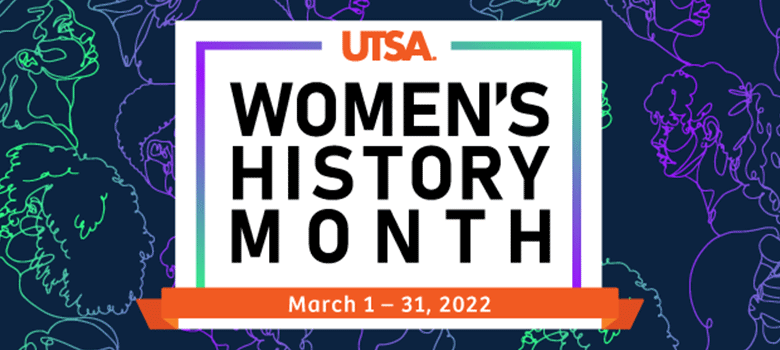 This year's Women's History Month events will include:
Body positivity, grossophobia and the politics of desire: an author's discourse
Monday March 7 | 11:30 a.m. | Virtual
In this conference and questions-answers, the author Caleb Luna will reflect on their essay, "On Being Fat, Brown, Femme, and Ugly," eight years after it was written.
Book Discussion with the Co-Editors of Revolutionary Women of Texas and Mexico
Tuesday March 8 | 11:30 a.m. | Virtual
Co-editors Kathy Sosa, Ellen Riojas Clark and jennifer speed will discuss their groundbreaking book, "Revolutionary Women of Texas and Mexico," which celebrates women in early Texas and Mexico who refused to follow a traditional path.
International Women's Day
tuesday march 8
In honor of this year's campaign theme, #BreakTheBiasUTSA asks the Roadrunner community to:
Take a photo striking the #BreakTheBias pose—crossing your arms to show solidarity

Include a commitment to creating a diverse, equitable and inclusive world.

Tag @UTSA_MSCEJ, @UTSAStudents and @UTSACOEHD
Recovering Indigenous Foods for Healing and Wellness
Wednesday March 9 | 10:30 a.m. | Virtual
Directed by Lilliana Saldanathis event is a presentation-plática on the indigenous foods of present-day Mexico and the Tejas-Mexico border regions and their culinary and medicinal uses to indigenize and decolonize diets for personal healing and collective well-being.
Style Files: Heritage South Texas Aesthetics — Ayer, Hoy y Siempre
Wednesday March 9 | 10 a.m. to 11:15 a.m. | Virtual
Sunday March 13 | 2 p.m. | Jamie's Place, 1514 W. Commerce St., 78207
Weaving together Anzaldúan's research and self-history, this workshop will discuss how women dress to express their cultural identity, adorn themselves as a form of self-care, track and anticipate fashion trends, and how women express joy in a lineage of ancestral South Texas aesthetics.. The workshop will also explore the remix of vintage and second-hand textiles and the rasquache style. Entrants can contribute to a final 'zine that features portraits recreating a fashionable look of a family ancestor.
Featured event: Keynote – Love in Troubled Times
Tuesday March 22 | 2:30 p.m. | Virtual
Gaye Therese JohnsonAssociate Professor of Chicana/o and Central American Studies and Associate Director of the Ralph J. Bunche Center for African American Studies at the University of California, Los Angeles, will discuss intentional living, building hope, and of maintaining perseverance in troubled times.
Feminist Organizing in the Time of COVID: Experiences and Alternatives in Latin America
Thursday March 24 | 3 p.m. | Virtual
This conversation will reflect on how various women and LGBTQ+ communities in Latin America have recently organized themselves to address several long-term crises exacerbated by the COVID 19 pandemic. Drawing on experiences as feminist anthropologists working in Mexico and Guatemala, panelists will share examples of grassroots feminist organizations rooted in a long history of collective resistance and building alternative futures expressed in concrete actions of solidarity.
Featured event: In Search of Reproductive Justice, a conversation between Dána-Ain Davis and Deirdre Cooper Owens
Monday March 28 | 11:30 a.m. | Virtual
Reproductive justice scholars and activists Cooper Owens and Dana Ain Davis discuss the historical legacy of medical racism and the contemporary challenges faced by Black women and those who give birth in their quest for reproductive justice.
Featured event: When Coatlicue comes for you, transformation is inevitable
Tuesday March 29 | 2:30 p.m. | Virtual
Feminist researcher, writer, teacher, mentor and spiritual activist Irene Lara will discuss a myriad of ways in which women cultivate a critical and compassionate consciousness, thus making the difficult and intimate work of healing and transformation inevitable – and even irresistible.
Fifty Years of Title IX: The Past, Present and Future of Women's College Athletics
Tuesday March 29 | 6:00 p.m. | Student Union Retama Auditorium (SU 2.02.02) and Live Stream
This presentation will highlight the progress made and the challenges that remain for women's athletics on the occasion of 50 years of Title IX.
Dominican soy
Thursday March 31 | 2:30 p.m. | Virtual
This poetry reading and performance by the award-winning author Jasmine Mendez addresses the intersections of race, identity, culture, disability and gender.