The "most beautiful" girl Thylane Blondeau spotted in a bikini on a yacht in France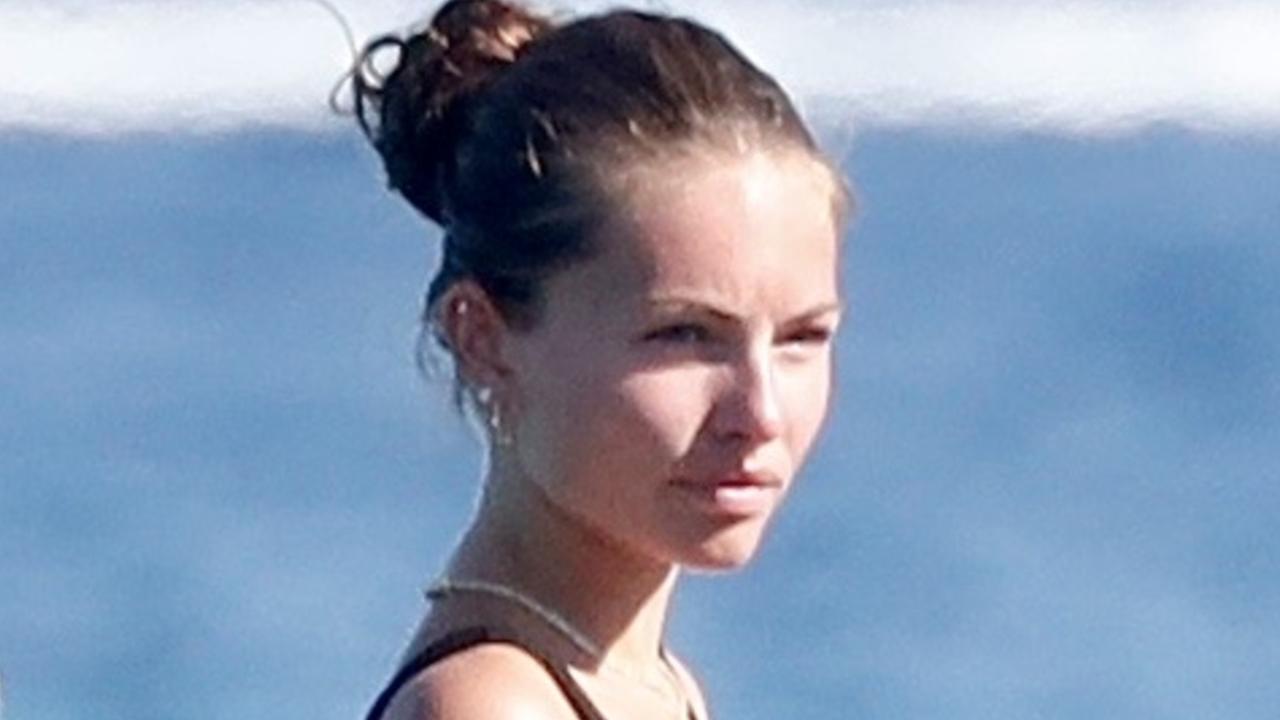 The "most beautiful girl" in the world was spotted enjoying a day on a yacht with her boyfriend Ben Attal.
Thylane Blondeau is currently enjoying the warm weather in St Tropez where temperatures are still in the low 20s (C) despite the fact that summer is almost over in the northern hemisphere.
The French model, 20, hit the water in a black Hunza G bikini that retails for $285.
It features a scoop neckline and thick straps for added support with high waisted bottoms.
Her long hair was tied in a messy bun and she accessorized with a simple necklace.
Deliver the news you want, when you want with Flash. More than 25 news channels in one place. New to Flash? Try 1 month free. Offer ends October 31, 2022 >
In one photo, Thylane – who rose to fame aged just six when photos of her went viral thanks to her bright blue eye – can be seen basking in the sun with a group of friends on the deck of the yacht.
She also enjoys a tender kiss with her 25-year-old other half.
Thylane appears to be taking a break from her successful modeling career which has really taken off in recent months.
On social media, she shared a series of casual snaps, most recently posting a photo of herself in a black cutout dress.
In another photo, she rocks a pink bikini and statement sunglasses while relaxing on an outdoor couch.
The daughter of French footballer Patrick Blondeau and TV presenter Veronika Loubry began her modeling career at the age of four when she took part in a fashion show for Jean Paul Gaultier.
At the age of six, she was named "the most beautiful girl in the world" by TC Candler's 100 Most Beautiful Faces of the Year in 2007.
But her successful modeling career has not been without controversy. A French Vogue shoot featuring a 10-year-old Thylane wearing heavy makeup and adult clothes drew criticism at the time for being too adult.
In 2019, she once again topped TC Candler's annual 100 Most Beautiful Faces of the Year list, writing on Instagram that she was so grateful to be number one again.
"Can't believe it myself… thank you so much @tccandler and everyone who voted," Thylane wrote. "I am grateful to you all."
Today, Thylane is represented by top modeling agency IMG alongside Kaia Gerber and Gigi Hadid.
She also has her own fashion label, No Smile Clothing, which sells bathrobes and tracksuit sets.
Earlier this month she was spotted swimming in the ocean with her boyfriend Ben who she has been dating since 2020.
Thylane dazzled in a green two-piece, which she accessorized with a pair of sunglasses.
The emerald green swimsuit featured a crop-top style top paired with a Brazilian-style bottom.
She also wore a thick necklace, two bracelets, and an assortment of earrings and rings.
However, she recently announced that she had undergone surgery following a secret health battle, telling fans on Instagram that she had a large ovarian cyst removed.
"This year, I saw three different gynecologists, I saw more than four radiology centers in Paris and they all said the same thing: 'Don't worry, you have nothing, it's all in your head' ", she writes.
However, the pain continued and she was eventually sent for an MRI. He was shown to have a cyst measuring over 5cm touching his ovary – and doctors took her back to the operating room for another emergency operation.
"Today I finally feel better, I finally feel free," she added.
"I really thought I was crazy complaining about my stomach for so long. Glad I never gave up.
She advised her followers that it's important to listen to your body.
"From this experience I learned that when your body is hurting you, don't let it slip and take care of it, you have to go to different doctors until some of them find the problem and cure it. Any pain, even the smallest, can hide something much more important.