Keeping American Eagle in Earnings (NYSE:AEO)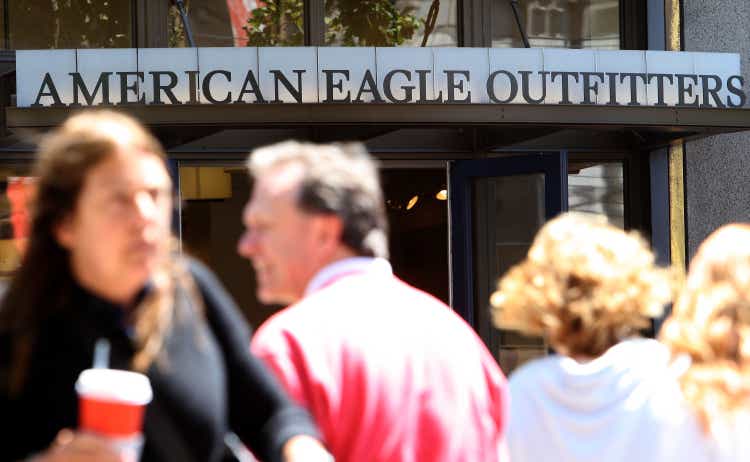 American Eagle Outfitters (AEO) releases its quarterly results on March 2. Analysts expect revenue of $1.52 billion and EPS of $0.35. The revenue estimate implies a double-digit Y/Y percentage gain. Investors should focus on the following key elements.
American Eagle continues to outperform
I have been bearish on the economy and the retail sector. Before the pandemic, the economy was already faltering and retail sales were in the doldrums. However, I was bullish on American Eagle. Its Aerie brand has been a category killer, similar to Abercrombie & Fitch's (ANF) Hollister brand a few years ago. Aerie has been one of the industry highlights in line with sales and fashion trends. In the past, its double-digit revenue growth has helped sustain the steady to declining growth of the American Eagle brand.
For the month of January, retail sales increased by 3.8%. Excluding auto sales, retail sales rose 3.3%, with non-store retailers gaining almost 15%. If rising tides lift all boats, rising retail sales could help American Eagle, at least in the short term. For the quarter ended October 2021, the company generated revenue of nearly $1.3 billion, up 23% year-over-year.
Aerie's revenue was $315 million, up 28% year-on-year. This is on top of revenue growth of 34% in 2020. American Eagle brand revenue was $941 million, up 21% year-over-year. This was a stark change from the brand's performance in 2020, when its revenue fell into the double-digit percentage range. Both brands seem to be firing on all cylinders. Aerie still accounted for 25% of total revenue. Now, with the American Eagle brand gaining traction, Aerie no longer has to work so hard to keep total revenue and operating profit from falling.
Boosted margins
I would have expected a larger scale to help boost margins in the quarter, but American Eagle's performance was outstanding. Gross margin was 44.3%, up 400 basis points from the same period a year earlier. American Eagle benefited from leverage due to rent, higher full-price sales and less promotional activity. The company may not have needed increased promotional activity to generate demand for the American Eagle brand, which helped margins. In dollars, gross profit was $565 million, up 36% year-on-year. It was a great quarter, but I doubt the company can deliver that kind of performance consistently. We will know soon.
General and administrative expenses of $314 million increased 15% year-over-year due to higher incentive costs and strong volume. As a percentage of revenue, SG&A was 24.6%, down 190 basis points from the prior year period. That's a long way of saying that American Eagle enjoyed growth in the quarter. The company's acquisition of Quiet Logistics could potentially generate efficiencies in the future:
This brings me to our exciting project to acquire Quiet Logistics. This acquisition marks a major milestone for our business, which I believe will be transformative. The acquisition of Quiet allows us to build on the efficiencies we have made over the past 12 months and position us for success as we grow our business in the years to come. We also have a broader vision. We hope that the combination of Quiet Logistics and the recent acquisition of AirTerra will create a unique platform that will revolutionize logistics within our business and in retail. Through consolidation and leveraging resources, the acquired customer AirTerra will benefit from the agility and efficiency previously only available to the world's leading brands and retailers. I think this will create a small new profit center with significant growth opportunities for AEO.
The acquisition was a smart move, in my opinion. As more and more retail takes place online, retailers with the best online platforms and fulfillment services will be best positioned to thrive. The ability to deliver parcels online to customers on time and with the utmost convenience, whether in-store or at home, is now an expectation. Retailers who cannot meet this expectation will likely be left behind. If Quiet Logistics can help American Eagle drive more efficiencies within its distribution system, it could pay long-term dividends.
American Eagle's EBITDA in the last quarter was $292 million, more than double that of the prior year period. The EBITDA margin of 22.9% is up nearly 900 basis points compared to the same period of the previous year. A big win for the company could be to keep EBITDA margins in the 23% or higher range going forward.
AEO seems quite appreciated
American Eagle entered the holiday season with cash and cash equivalents of $741 million and working capital of $906 million. Inventory was $740 million, which is expected to drop sharply after the holiday season ends. The company needed sufficient inventory to meet potential holiday demand. Bloated inventory or dismal working capital could be a red flag for some companies, but American Eagle's liquidity is solid. The company's debt of $336 million was well below cash. American Eagle's strong balance sheet should give it flexibility in case the economy turns sour in the future or if inflation hurts retail sales.
AEO has a market cap of $3.5 billion. Its cash exceeds debt by $404 million, so its enterprise value is $3.1 billion or 9.8 times trailing 12-month EBITDA to October 2021.
AEO is trading in my 10x to 12x range for cyclical names. Investors must remain disciplined. As talk of Fed rate hikes or the potential reduction in Fed liquidity for the market continues, valuations may become more targeted.
Conclusion
AEO is expected to generate strong revenue growth in the first half of 2022, but the stock looks fairly valued. Hold AEO.